A story if you will: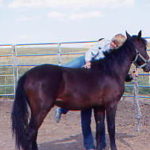 In her previous life, Bonnie did not want or allow her husband or daughter to have a horse or any other animal for that matter. When that life ended and she started a new one with Don, imposing a no animal rule became a non-option given his innate love of all animals but especially horses, cats and dogs. The short side of it is Bonnie discovered having animals in her life adds immeasurable love and entertainment far outweighing the hassles of dirt and chaos. After moving to Wyoming with Don, Bonnie diagnosed with MS. The disease was fairly far-along by the time she was diagnosed and soon she was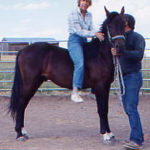 unable to get around without the aid of a cane, or a walker and sometimes even a wheelchair. Because she had come to appreciate horses and riding them Don realized she would need a special horse to ride with her physical challenges. She had a bad run of luck with her first few horses. One of which was an exceptional 2-year-old wild caught Appaloosa stud colt who died from complications after being gelded. After a period of never wanting to risk another animal's life – she thought she was jinxed – Bonnie and Don were at a BLM adoption and after all of the adopters had taken their new horses and departed the BLM personnel – knowing Don – where teasing him about how many he wanted to take home. While Don was saying NONE Bonnie was saying "oh … we have to give one of the poor things a home ….". So, Don parked the car where Bonnie could see the horses. He walked around the corral to watch from another perspective. When he came back, she said "I want that pretty one" and the one she had chosen for looks also happened to be the one that had caught Don's eye because of attitude. And thus a star was born – as the saying goes. The star was promptly christened Splash for the black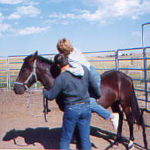 spotted white rings around his fetlocks and because he liked to splash in his water trough. During this period, Don was traveling for his job. When he asked Bonnie what she wanted for her birthday which was in one week she said she wanted to ride her horse. Knowing he would be gone most of the week Don just shook his head and promised nothing. However, the following weekend – on her birthday – Bonnie took her first ride on her horse. The best we can calculate Splash had about 5-6 hours' worth of foundation work prior to Bonnie first being "tossed" on his back. The pictures below show her first mount, her first 'ride' and her first dismount. While Splash is an exceptional horse, this is what we expect of all of our horses once they have our foundation training.
And another: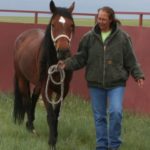 This woman found us on the internet. The Curlies intrigued her but after discussion and exploration she settled on a smooth mare by two curly parents. As with all of our horses, Lu, had not been ridden but did have our solid foundation. This California woman flew out to meet us and to meet her top picks of the horses. Then she went home and made payments and arrangements to come back out and pick up Lu whom she renamed Kaycee. During the 4 month interim she called multiple times (sometimes more than once a day and at least 3 or 4 times a week) with concerns about her ability to properly train this horse. She wanted the horse to have been saddled and have had a first ride before she took Kaycee back to California, because the woman did not want to "screw up this all important first step". As with most people, she had the ever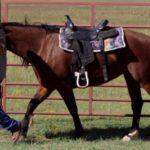 present good neighbor who was telling her she was crazy, and what was she thinking, and why did she think she could train Kaycee. We continually reassured and explained our principles and convinced her to give us a bit of extra time when she came to pick Kaycee up so we could work with her and the horse and she could be here for the first saddling and first ride.
So, when she arrived in September to pick up her new horse, we showed her what we expect of our horses once they graduate kindergarten. They are expected to be respectful, trusting and responsible. They are to never tighten a lead rope, to lead alongside on either side, to lead in multiple groups, to stand to be haltered, to face up in a round pen or larger field, to follow a 4-wheeler, to stay alongside as led into a trailer – the barn – the garage – past barking dogs – into the sheep herd – where-ever we the human decides we need to lead them. They are expected to listen to our voice and trust when we say the thing they are sure is going to eat them won't.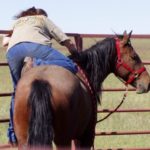 Once she understood what our horses are capable of, we put her and Kaycee into a round corral and remote controlled her interactions with her new horse. By the end of a day (5 hours), she had been on Kaycee bareback with a halter and lead-line, taken a few steps while being led, saddled Kaycee and sat in the saddle. We then loaded Kaycee in the trailer and off to California they went.
However, the interaction has not stopped to date. We have built a relationship through long-distance training of her on how to train her horse. Many conversations have taken place to solve "behavioral" issues that have come up as she works through training and all were created because details of the foundation building process were erased or skipped. For about 30 days after a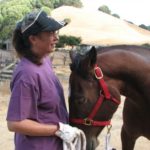 horse leaves here the new owner has the advantage of our foundation still working on the horse whether they know anything about training or not. Within the first week of taking Kaycee home her new mom was riding her bareback with a halter and drinking a diet coke at a horse club she belongs to. She finished her coke as she was riding by an empty metal dumpster and lobbed the can into the dumpster. She said as she watched it fly towards the empty dumpster she thought "OH THIS IS GOING TO HURT"! However, when the can clanked into the dumpster and Kaycee jumped as expected, Kaycee also listened to her new mom when she said "whoa" and followed it up with soothing thankyous as Kaycee stopped and did not loose her head to fear.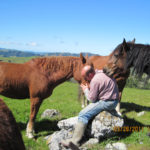 Now, just over year after taking Kaycee home, Kaycee is her best friend and she rides her all over doing whatever strange thing strikes her fancy. She has drug a large Christmas tree around the farm yard, herded cattle, trail ridden on trails shared with bicycles, gone through much water, over long arched foot bridges and to the fair.
And her husband, who decided he wanted a horse after seeing his wife having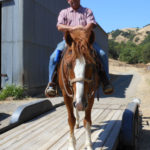 so much fun, is now training the horse he picked up from us in July this last summer. Being of a bolder personality, her husband was quickly out working cattle on his horse. However, he too has called with issues because of steps which were skimmed over in his rush to ride.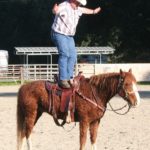 One problem involved water crossings – an issue he had had with his mules in the past. Once he was frustrated enough to listen to the process and absorb the details he no longer has issues crossing water and has not had to get down, remove his boots and socks and lead his horse across since.
And one more:
Scaup, was too small is what the gent looking for a horse said. But because of past and current health challenges the thought of a shorter/easier to mount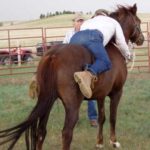 horse held some appeal. After much thought and debate, he decided to give Scaup a try. When he went to his new home Scaup had been ridden bareback with a halter and lead rope about 5 times and once for a short – to prove a point – once around the round corral under saddle. The new owner put some time into building a relationship and learning what Scaup knew and then ventured out for a cross-country trail-ride in Nebraska. Averaging about 15 miles a day Scaup never faltered. His new owner, however, found himself with challenges mounting and had to find something to stand on after the first couple of days. As that ride progressed and as Scaup and his new owner have grown in experience together, Scaup's owner tells us his friends frequently tell him he had best keep Scaup for life as "that horse is taking care of you". This 14.1 hand Mustang has proven he will outlast his 6'2″ owner and he has proven that a solid foundation will get a horse and handler at least as far as and often farther than all the trail miles in the world.
And still more:
A young lady came looking for a horse for her father. Being a college student, she was in a learning frame of mind and being close to us, made several trips while deciding on a horse. During her visits she had a chance to become familiar with what we mean by "foundation". Knowing her father had limited horse experience, she originally wanted a "broke" horse. However, upon being exposed to our horses and our training philosophy she decided her father could handle one of our "green" horses. When it came time to take the horse of choice, B.C., home, her father came out and to pick him up. He took his first ride on BC at which point he lost his stirrup, leaned out too far, kicked the horse in the flank and proceeded to fall off. He still took BC home and had nothing but glorious things to say about him from then on. During one call the daughter told of giving four horses a bath – BC and three bath experienced horses. She said during the entire process she was betting BC had never had a bath and yet he was the best behaved and stood calming through the entire process. She said she kept repeating to herself, "foundation, foundation, foundation". She was correct BC had never before had a bath. She said the other three horses were dancing and fighting and being general idiots.
At another time, the father called to tell us of a ride he had taken in a group in Montana. He said there were many riders in a line on a trail cut into the side of a very steep hill. He was not sure what happened but BC's hind end slipped over the side of the trail. He said he knew he and BC were goners as it was a very steep very long fall. But he said BC did not panic, did not throw himself around but rather dug in with his front feet, heaved and grunted and righted himself and his rider back onto the trail and proceeded with no fuss or muss. This was BC's first major trip and first mountain ride. A foundation that creates a thinking horse allows them to partner with a thinking rider and to navigate many new and potentially sticky situations with apparent aplomb so anyone watching won't know the horse is "green".