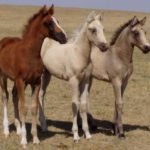 After working with most recognized breeds, Don settled on the Morgan breed as his favorite. He likes the breed's versatility and often cites days when he used one horse to haul a wagonload of hay, plow a field, drag a mowing machine and go for a pleasurable trail ride.
He believes Morgan's have the personality to meet and conquer any challenge set forth.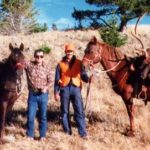 The two mares pictured here are two of the Morgans he purchased as weanlings to train to be his retirement horses. On the outing pictured here, a neighbor managed to shoot a bull Elk on opening day of hunting season. He did this; however, in the bottom of a bowl bounded by steep hills and thick timber. He asked Don if they could use the horses to haul out the meat. Don said of course. In the process of quartering and packing the meat, the neighbor asked Don how many times the mares had been packed and was surprised when Don nonchalantly answered, "never".
Because of the foundation Don puts on his horses and because of his faith in the breed, he never doubted that those mares would haul us in, the carcass out and us out again. His faith was amply rewarded when Thea and Wren performed exactly as expected with the added bonus of carrying a handicapped person to the site so she, too, could participate in the days activities.